last saturday, we had a big party. i was fully intending to do nothing the next day but rest my hungover body in my cave of a room... but my friend tempted me with a trip to the beach with his friends and i couldn't resist because i love the beach and adventures with new people.
far rockaway beach is a relatively long trip along the A train that goes over bridges and large bodies of water, etc. i like it
so, as soon as i got to the beach (i arrived before my friend and his friends) it started drizzling... so along with everyone else i took shelter under the board walk to let it pass by, but then it started thundering and lightning... so they told everyone to get off the sand. apparently sand attracts lightning... but the enormous metal light poles lining the boardwalk do not... right. so shortly after, friend and friends arrived and we decided to figure out where to drink the cooler (endearingly named the 'ice cube') of beer they had brought along. god bless the iphone, a taco place was suggested. we quickly finished our first beers and ventured into the town of rockaway beach in search of said taco place in the enjoyably chilly drizzle. thus, the day had been appropriately titled, Adventure Day.
so we get to beach 96th street and see a couple of awnings swarming with people! there's a cute little organic veggie stand on the corner. next to it is a cute little italian ice stand.. and right after that... Rockaway Taco. aka mexican heaven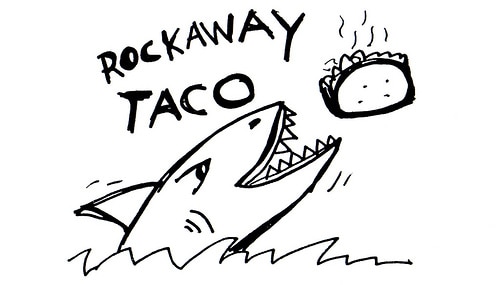 We scope out the minimal, but just as enticing menu, written on various chalkboards in bright, cheerful colors. The second i see the word 'chorizo' i know i am meant to be eating this food. and then i see the prices and that just seals the deal!
i ordered a chorizo taco with guacamole ($3 or $4 w/ guac) and a black bean and cheese quesadilla ($3). while waiting for our food we hover outside the quaint little alleyway seating area to see if any space opens up, and it does, and we squeeze through everyone with good ole ice cube and park our booties down under the awning. because of the intimacy and distance from the street, we were able to crack open our brewskis and enjoy ourselves to the fullest extent. after names being called out, we indulge.
the chorizo taco was awesome... the meat was perfectly seasoned, topped with a generous amount of delicious guacamole and fresh cabbage and slices of radish. it was a bit messy, but in a good way and i was not at all worried about looking like a pig. my friend got the fish taco.. and the look on his face as he tasted it was the look of a five-year-old on christmas morning. apparently, it was the most incredible taco he's ever had. (and after more research post-adventure, i found out that the fish taco is the thing to get)
i didn't snap any pictures, solely because of the glorious food coma i was in atm, but here are some pics i snagged from the convenient interwebz.
on the left you have fish tacos, one without guac and one with, and the right is the chorizo taco. next time, (there will be a next time) i will most definitely be trying out the heavenly fish taco.
as for the black bean and cheese quesadilla, that was super awesome too. the cheese and beans were literally oozing out of the sides of the tortilla and it was soft and smooshy and so warm that my soaked and freezing body warmed up like i just took a shot of jim beam (the food might as well have been injected with booze it was that intoxicatingly amazing).
so after we finished and had a few more beers, my friend went back for another to try out the carnitas (which apparently wasn't as great but that's all i'll say) so that gave us a little more time to stay under the awning and drink a few more beers.
by the time we finished, the sun had come out, kind of, so we headed back to the beach. it was empty of course because the rain cleared everyone out, and there was a eerie hazy fog just settling while the sun was setting, it was really a very peaceful and amazing moment. so we drank some more beers and talked about relationships, strip clubs, football and many other things and then got busted by the parks people for drinking beers, so we decided to head over to the other side of the peninsula that is rockaway.
we eventually found a mcdonalds and decided it was a great idea to eat mcdonalds and finish the beers in the ice cube under the bridge while watching the sunset on the water. and it was a great idea. after that, we packed it in, headed back to the subway station and took the train back to our respective boroughs exhausted, but fulfilled, for it had been a wonderfully successful adventure day.